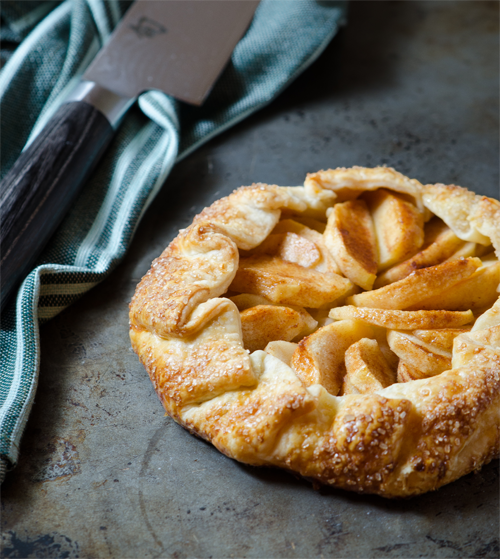 Last year, I set out on a quest to make consistently excellent pie and galette crust. It had to be flaky and fork-tender while also having enough structure for roasted butternut squash "pumpkin" pie and the juice explosion that is
peach season
. In terms of process, I wanted to skip any equipment and keep it simple with just a rolling pin, pastry scraper, and my counter. I also wanted to get away from the "add water until it comes together" instructions. Meticulously measuring grams of flour only to add an indeterminate amount of water doesn't work well for me nor does it make sense. Pastry is the scientific interplay of fat, gluten, and moisture so my technique needed to reflect that.
I was on a roll during the holidays and thought my successful Thanksgiving pie meant I had nailed the process. Visions of happy emojis danced in my head as I started to write this post. Then, my dough went off the rails. The subsequent galettes appeared golden and flaky but the texture was a little tough.
At the time, I was still using the now abandoned vodka trick - explained further down in the post. 
After reading several comment threads on the Interwebs, it was clear that "all looks and no substance" was a common issue. I did a little more reading and watched some video tutorials to better understand the science behind my failed pie crust. After several experiments, things finally came together and I was able to create a reliable technique.
I'm going to walk through much of what I learned and how I applied it to my galette and pie dough recipe. The instructions are quite specific since I was hoping to create a repeatable process for an amateur baker like myself. If you have an alternative idea or general feedback I'd love to hear about it in the comments.
As it turns out, Erik B. and Rakim were wrong. You should definitely
sweat the technique
.