Roasting is a great way to introduce the sweet element into a sweet and savory dish. By cooking vegetables or fruit low and slow you're caramelizing the juices and extracting moisture, thus concentrating the flavor.
Tomatoes are amazing right now. Let me repeat, tomatoes are the candy of summer and you should find all opportunities to put them in your mouth.
A couple of weeks ago, I had some beautiful tomatoes sitting on the counter that were close to their demise. In such situations my solution is to roast the food and then figure out a recipe later. The great thing about roasted vegetables and fruit is they can usually be kept in the refrigerator (in an airtight container) for up to 3 days. On this occasion, I added a head of garlic and three red onions figuring I would make pizza of some sort. The next day Rob and I went down to
Joe's Pizza
and bought a ball of dough so I could experiment a little.
Useless Facts
Many years ago I lived in New York and the one pizza shop I remember was
Joe's
on Bleecker. Their Sicilian crust was so buttery and crunchy while the pizza was still perfectly doughy. Heaven. For a girl on a budget it was always a treat to sit with my favorite NY slice and people-watch in Greenwich Village.
A few years ago a Joe's Pizza (seemingly associated with the original on Bleecker) opened in our fine city of Santa Monica. It's really more than I could have hoped for in life. It turns out that this Joe's was opened by the original founder's former son-in-law. Confused? If you like pizza parlor gossip here's
an explainer
. The Santa Monica Joe's makes decent pie so I'm not complaining.
Recipe
I already had an heirloom tomato and herb goat cheese recipe, but the crust didn't always crisp up right because the tomatoes weren't roasted. Once you introduce tomatoes to any form of salt it's a big wet mess. Roasting is a easy way to get the flavor but avoid the moisture. (I mentioned roasting in my
Eggless Peach Ice Cream
post for this same reason.) If high ion concentration and cellular walls are your thing here's an article you might like on
salting vegetables
.
I did my best with measurements in this recipe but not everything is exact. Pizza is awesome because you can play with ingredient portions without doing too much damage to the final product. Go crazy, people.
Ingredients
1 ball of pizza dough

Note: Buying dough from a pizzeria makes this meal easy enough for a weeknight, or you can try Nancy Silverton's pizza dough recipe.

10 medium heirloom tomatoes

Note: The picture above is of Early Girl tomatoes from Peacock Family Farms, but for this recipe I used Cherokee heirlooms from Tutti Frutti. Also, if you have leftovers they're excellent for bruschetta, eggs, or a quick pasta lunch.

1 large head of garlic

3 medium red onions

1/2 cup goat cheese

(approx - to taste)

16 oz mozzarella

Parmesan block for shaving

10-14 sprigs of thyme

Extra Virgin Olive Oil

1 tablespoon butter
Instructions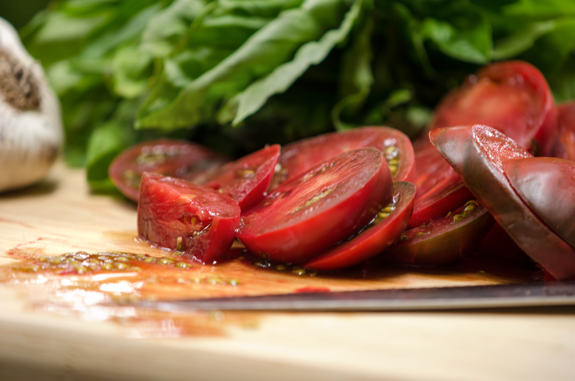 Roasting
Move an oven rack to the middle position and heat to 350.
Line a baking sheet with aluminum foil and then lay a piece of parchment paper on top of that. Note: The parchment paper is important. Roasted tomatoes are delicate and even with olive oil they stick to foil.
Slice about 1/4 inch off the end of your garlic (not the root end). It should look like this. Leave the skin on to hold the cloves together, rub the garlic with olive oil to prevent burning, and then seal it up in aluminum foil.
Thinly slice the red onion.
Slice your tomatoes.
Transfer the tomatoes to the baking sheet and make sure they're in a single layer, leaving room on one side for the onions. Note: Since I usually roast extra tomatoes everything doesn't fit on the pan. If you don't have room for the red onions just put them on a separate baking sheet and adjust your oven racks accordingly.
Drizzle a generous amount of extra virgin olive oil over the tomatoes and red onions. I use my hands to spread the oil around, flipping the tomatoes to get both sides covered. Same goes for the red onions. Note: Don't be shy with this step. At the end of roasting you'll have some amazing olive oil that's infused with thyme and tomatoes - perfect for homemade vinaigrette.
Pour some olive oil on the thyme. This will keep it from drying out too much.
Scatter the thyme over the tomatoes. Sprinkle the red onion and tomatoes with kosher salt and fresh black pepper.
Roast the tomatoes, red onion, and garlic for 1 to 1 1/2 hours. Check on things periodically to see if anything needs to come out. I find that the tomatoes and onions usually finish around the same time. Your tomatoes should be wrinkly and dehydrated (but not burned) and the red onions should be caramelized.
This is the point at which you can stop and put everything in the refrigerator. I often roast the veggies/fruit and then make my pizza the following day.
Finishing the Toppings
When the garlic is cool gently press the cloves out of their skin. Mash with a fork and set aside.
Mince some fresh thyme and add about 1 teaspoon to the goat cheese. Mash with a fork and set aside.
Slice the mozzarella into 1/4 - 1/3 inch pieces.
Chiffonade some basil.
Make the pizza!
Preheat oven to 450.
Stretch the dough. I have no way to explain this process since it's not my strength. (P.S. Nails will poke holes in dough. Who knew?!) If you want to read about stretching dough and see a quick video visit this page.
Pierce the dough all over with a fork. This prevents large bubbles.
Brush dough lightly with olive oil and sprinkle with salt and pepper.
Getting the dough/pizza in and out of the oven can be tricky. If you're using a baking sheet you can simply stretch the dough, put it right on a parchment-lined baking sheet, and then pop it in the oven. If you're using a pizza stone (the preferable cooking surface), flip your baking sheet over, lay a piece of parchment on top, stretch the dough, and then carefully slide the parchment and dough onto the stone. The baking sheet helps you guide everything into place.
Bake for 3 to 4 minutes until light brown spots appear on the bottom.
Remove pre-baked dough and set on a wire rack so it can cool off a little.
Smear the mashed garlic on the pre-baked dough. I find using my fingers works best.
Add mozzarella, shaved parmesan, tomatoes, red onion, and then finish with goat cheese. Note: I think of parmesan as a salt element so the more I add the less salt I use. This goes for any dish that includes parmesan or salty cheese.
Melt the butter in the microwave and then add some olive oil (roughly 50/50). Brush the edges of your pizza with the mixture.
Sprinkle with salt and pepper. Note: When it comes to salt most recipes suggest too little. If you don't have health reasons to limit your sodium intake this is a good article on why salt/seasoning matters. "Correct seasoning, to a chef, is as much salt as you can get into the dish without it tasting too salty." True that.
Slide into the oven and bake for 5-8 minutes. You want the crust to be nicely browned and the toppings to bubble.
Remove the pizza, let it rest for a few minutes, then slice. Sprinkle with basil before serving and enjoy with some red wine if you're so inclined.